ORSBORNAGAIN (34)
A devotional series by Major Rob Birks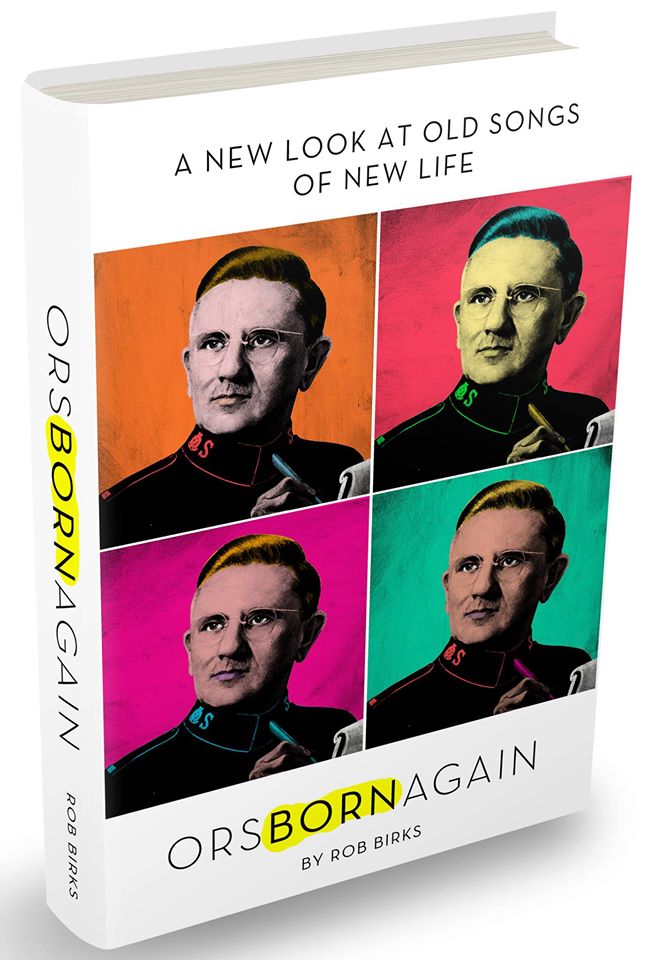 ORSBORNAGAIN is meant to introduce the poetry of the first Poet General, Albert Orsborn (1886-1967) to a new audience and to reintroduce his works to dyed-in-the-(tropical)-wool Salvationists.
These are not new songs.
However, the lyrics are jam-packed with new life, which may be missed during corporate worship. Re-examined through scripture and experience, Rob Birks intends through an examination of these scared songs to renew the spiritual fervor of believers, and point seekers to their Savior.
Though thy waves and billows are gone o'er me,
Night and day my meat has been my tears,
Fain I would pour out my soul before thee,
At whose hand my advocate appears.
Only thou art still my soul's defender,
Hand of strength, and all-prevenient grace;
Frail am I, but thou art my befriender,
And I trust the shining of thy face.
As the hart that panteth for the fountain,
So I long for thee, the living God;
To the spring that flows from out the mountain,
Lead me forth with thine unerring rod.
From the depths my soul has called upon thee,
From the hill shall make thy praises known,
For my foes shall not prevail upon me,
By thy strength shall they be overthrown.
By thy loving-kindness so unfailing,
Never once hast thou forsaken me;
O for grace that I, by prayer prevailing,
May in faithful love remember thee!
Lo! my soul before thine altar kneeling,
Renders up the sacrifice of praise;
Place thy hand upon me for my sealing,
Thine alone, throughout my length of days.
Albert Orsborn
762 The Salvation Soldier – Faith and Trust – not in the 2015 Edition of The Salvation Army Songbook
Compared to many of my friends and family members, my life has been pain-free. A bad day for me is when the morning commute takes 30 minutes instead of the 20 it should take. I complain if the wireless isn't working at home, or if the climate in my office isn't just right (it never is). One of the four-way stops in the small town where I live is another source of frustration for me. It's not that difficult, people!
The other day, I ordered a few things online and realized I had two Amazon accounts. I have no idea why that is. The same email address is connected to both accounts. In fact, I used the same password for each. The only difference is a capital letter is used at the beginning of one password, while a lower case letter is used in the other password. So, the $55 gift card (thanks, Commissioners Knaggs) I had placed on one account was not used to cover the order I placed while on my other account. Instead, the total cost was taken out of our checking account. That fact bummed me out for a couple of hours, and I was on vacation at the time!
I could go on with a long, pathetic list of what my friend calls "first world problems," but I believe the point has been made. My life, compared to many of my friends and family members, has been pain-free.
Unlike Orsborn (or you, maybe?), I have never felt like the "waves and billows" were going "o'er me." I haven't experienced too many meals consisting of "my tears." Most of my waves and billows and tear times have been experienced vicariously through those I know and love. A friend of mine lost a husband in a tragic, senseless, car accident. I have a sister who lost a son to a similar circumstance. I have a friend whose mother died while he was still young. One of my nieces has done battle with cancer. The wife of another longtime friend has cancer, and is only expected to live four or five more years.
Again, I could go on and on. There is a shortage of a lot of things in this world, but pain can be found in abundance. Besides, you have your own list. "Waves and billows" similar to the ones I've listed may have come crashing down on you as well. Or, like me, you may have escaped the full force of the pain (so far). As friends and family members of those on a steady diet of tears, we have only a shadow understanding of suffering.
We, all of us, regardless of the intensity of our pain and suffering, have need of an "advocate," a "defender" of our souls, a "hand of strength," "all-prevenient grace," a "befriender." And the good news of the gospel (and of this Orsborn song) is that all of these are found in "the living God." My loved ones who have gone through and are currently going through difficult times are all intimately involved with this living God. "From the depths" their souls have called upon him, and "from the hill" they make his praises known. These people amaze me. I want to be like them when I grow up in my faith. "O for grace that I, by prayer prevailing," may act as they have when my "waves and billows" are more potentially devastating than my current hardships (i.e., the Seattle Mariners' losing record).  
One aspect of this song that I find comforting is the emphasis on all that belongs to "the living God." It's his shining face. It's his unerring rod. It's his strength. It's his unfailing loving-kindness. It's his altar. It's his hand. Even the "waves and billows" are his. And, in the end (and forever) we can be his alone, throughout our length of days.
As the deer* pants for streams of water, so my soul pants for you, my God (Ps. 42:1).
* Hart (verse 2) is an old word for a deer. It is used by Shakespeare, Tolkien and, apparently, Orsborn.