This was established as a memorial to Bandmaster Harry A. Hartjes, Territorial Music Director, who was Promoted to Glory suddenly while traveling to a music camp. Harry possessed a rare combination of experience, joined with common sense, which he used effectively to influence many lives, particularly the young Salvation Army musicians.
In his dual capacity as Bandmaster of the San Francisco Citadel Band and Territorial Music Director, he demonstrated how wonderfully he cared for and related to them. His sudden passing prompted the establishment of the Harry Hartjes Memorial Award that offers the young Salvationists of the Western Territory an opportunity to develop their talents for better service to God through music–making in The Salvation Army.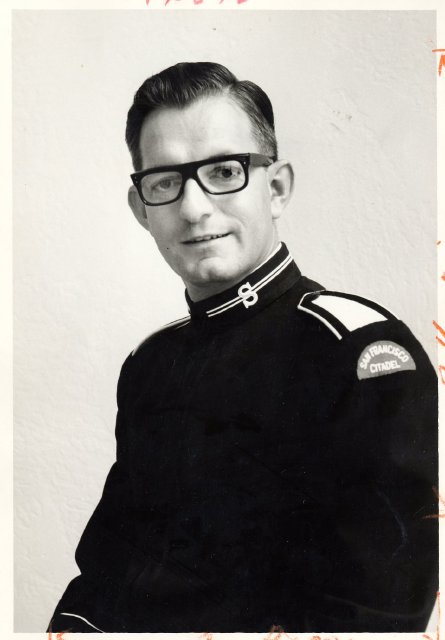 The award provides for:
1. A full scholarship to the Western Music Institute and transportation cost.
Recipients must be between 16 and 25 years of age and have attended W.M.I. for at least two of the previous three years, one of them being the preceding year. 
Harry Hartjest Scholarship Winners
1978
Susan Church
Susan Gregory
Randy Haan
Roger Haughin
Kelly Ponstler
1979
David Ray Bowman
Kari Brodin
Dorothy Brown
Harry Cisar
Lynn Holmes
Laura Luttrell
Patsy McClelland
Adam Morales
1980
David Church
Robert Craddock
Cherilee Gregory
Cindy Hill
Jan Hoogstad
Garn Horgan
Sharon Luttrell
John Pearson
1981
Robin Nehasingh
LeAnne Van Cleef
1982
Sonja Edd
Willie Dawson
Selma Jackson
Dolores Lind
1983
Danny Bowman
Donna Bowman
Lisa Brodin
Amy Carr
David Carr
Steven Gregory
1984
Johan de Langen
James Sullivan
Mike Welling
1985
Peter Davis
Carrie L. Jackson
Dina Scuto
1986
Hanna Berko
Jeanne Bryant
Kathy Bryant
Barbara Harvey
Pam Hedgren
1987
Carlene Arnold
Caryn Arnold
Roz Camsey
Jennifer Carr
Jill Dunning
Martha Kalnin
Aaron Roberts
Garner F. Saguil
1988
Marie Brodin
Cherish Faulkner
Tim Griffin
Denise Park
Paul Slous
Jennifer Stickland
1989
Eric Bradley
Andrea Freeman
L.E.E. Freeman
Jenna Mason
Lavonne Ricken
Aaron VanderWeele
1990
Bonnie Bloodgood
Todd Griffin
Jake Landmesser
1991
Stacy E. Anderson
Ann Maguerite
Troy Griffin
Hilary Lyons
R. Brent Malmberg
1992
Tracy Aalders
Heather Andreasen
Roy Aguilar, Jr.
Alma Clifton
Oliver Rubin
1993
Susan Cummings
Kenneth Lyons
Jamie Rodriguez
1994
Holly Andreason
Timothy Loomis
Andy Yasutake
1995
No Applicants
1996
Melissa Griffin
Joy Leslie
Leigh-Anne Robinson
Stephen Spicer
1997
Christin Howard
Melani Hughes
Kevin Johnson
Michael O'Brien
1998
Teri Barnett
Terry Knickerbocker
Hilary Sholin
1999
Jennifer Bordoy
Chad Ingram
Sean O'Brien
2000
Christian Riesebieter
Lisa Daniels
Joy Lee
Richey Opina
2001
Sarai Henry-John
Lisa Garcia
2002
Jonathan Bradley
David Hall
Isaac Henry-John
John Opina
2003
Aleen Bradley
Daniel Grant
2004
Nathan Newcomb
Kenny Knickerbocker
Elisa Phakdy
2005
Justin Anderson
Michael Garcia
Shalini Hanry-John
Kenny Keys
Claire O'Brien
Johathan Vasquez
Jessica Zielinski
2006
Laura Foley
David Hood
Daniel Tollerud
2007
David Tollerud
Lily Vasquez
Joshua Parks
2008
Jesus Nkunku
Daniel Summers
Deryn O'Brien
James Allen
Arnold Henry-John
2009
Jennifer Crowell
Ashley Stillson
2010
Mathjs Arens
Audriana Moody
Kelly Zvobgo
Gregorio Duran Jr.
2011
Megan Freeman
Grace Shepherd
2012
Jose-Miguel Madrid
David Dickinson
Isaac Chung
2013
Sophia Hoogstad
Holden Saunders
Melanie McQuade
Raquel De Lao
2014
Rachel Bach
Megan Thomas
2015
Lacy Gardner
2016
Tyler Griffin
Zane Morris
Bradley Stires
2017
Rachel Bach
Noelle Stewart
2018
Able Gomez
Brennan Smith
Katie Kim
Kristofer Santiago
Sylvia Strickland
Isabel Fairclough
Zachary White
2019
Jeremiah Davis
Samantha Mabie
Raquel Marquez
Christopher Xiong
2020
Online WMI
2021
WMI Roadshow
2022
Everett Bernal
Collin Helms
Olivia Mauk
Timeria Murphy